Level-up your backyard with a custom garden water feature. There are plenty of water feature styles that are perfect for any backyard design. You will take pleasure in the beautiful sights and sounds of your thoughtful custom water accent. Integrating a garden water feature will also appeal to the colourful neighbourhood birds, which will bathe and bring a beauty of sight and sound of their own.
We offer three garden water feature variations: ponds, fountains, and waterfalls.
There are so many possibilities within each water feature. To help you get started with your outdoor water feature renovation, we will share with you our top three favourite pond designs.
Ponds for a Natural Garden Water Feature
When built properly, these natural garden water features will look like Mother Nature has blessed your backyard with a gorgeous pond. To achieve a natural water feature design, you want to construct an in-ground pond structure. There are a number of ways to build an in-ground pond. Speak with a professional landscaper to select the right pong structure for your backyard needs.
Once the pond is set in the ground, the landscaping surrounding it will be inspired by the peaceful ponds that you see in the wild. Include lots of rugged stone work, shrubs, grasses, and even some aquatic plants.
Pros
Peaceful, natural, and timeless aesthetic
Lots of opportunity to customize for any backyard or personal style
Greater variety in shapes and sizes for a seamlessly integrated pond design
Cons
Building an in-ground pond can require extensive construction and be more expensive
Takes more time to install the pond and complete with landscaping
A bigger commitment because it is a more permanent addition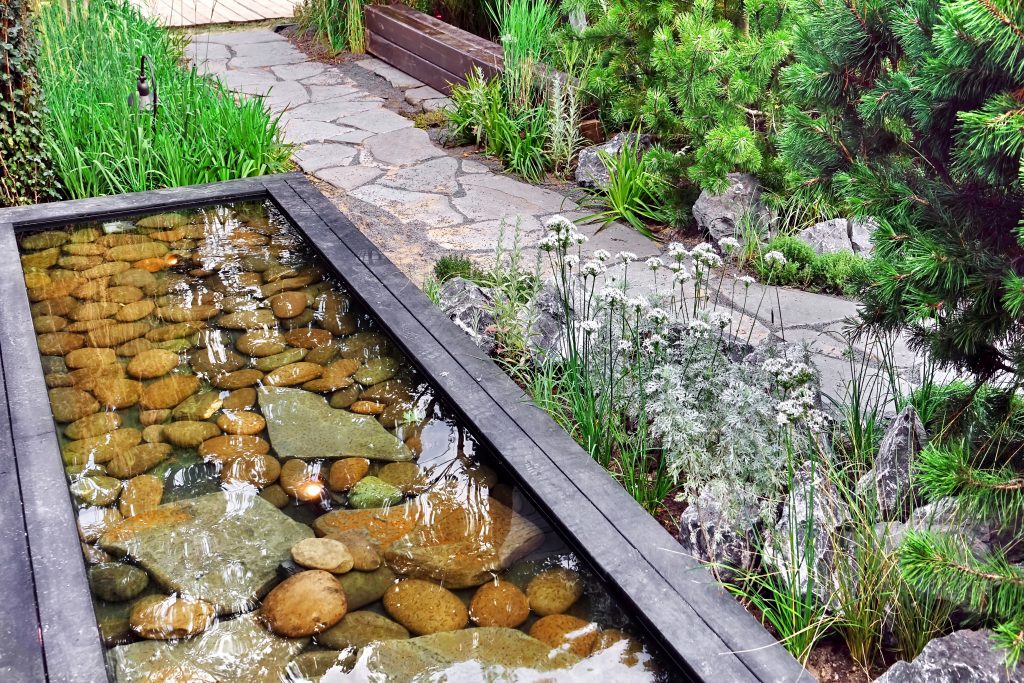 Ponds for an Above Ground Water Feature
If you're looking for a garden water feature to make a statement, then an above ground water feature is right for you. These raised ponds, sometimes called container ponds, don't require digging for installation. You can place many above ground ponds on decks or areas where digging underground isn't possible. You can enhance the design of your yard by thoughtfully selecting an exterior material to surround the pond. Traditional materials include stone, brick, or wood. You can be creative, however. This is a great chance to make this garden water feature uniquely yours!
Adding some landscaping plants can help elevate the look. With above ground water features, though, minimal landscaping is needed to make it look finished. Many simple designs standout as timeless accents in the yard.
Pros
Low maintenance
Can be installed in areas where digging is not possible
Opportunity to add personal style on the exterior material surrounding pond walls
Cons
Building materials can be expensive depending on pond siding
Less variation in shapes and sizes
Fish Ponds for a Special Garden Water Feature
If you're searching for a garden water feature that is both tranquil and interesting, then a fish pond may be the right water accent for your home. Fish ponds are wonderful additions of life into your outdoor living space. Sitting back to watch the beautiful colours of fish swim around can provide many moments of peace. Some research is required to find out what type of fish will live best in your pond and what kind of habitat features are needed to keep them healthy. We suggest consulting with a professional to ensure you're buying the best fish for your needs.
Once you have decided on your pond style and fish selection, get creative with the decor and landscaping. Fish will require some shading to escape the hot summer sun. You can provide their ideal living space while adding design to your backyard.
Pros
Unique and beautiful display of fish
Can be either an above ground or in-ground pond design
Cons
High maintenance to feed and care for fish daily
Can be expensive to purchase, feed, and maintain fish
More requirements for a healthy fish habitat